Are you looking for Exhausts Service for your vehicle?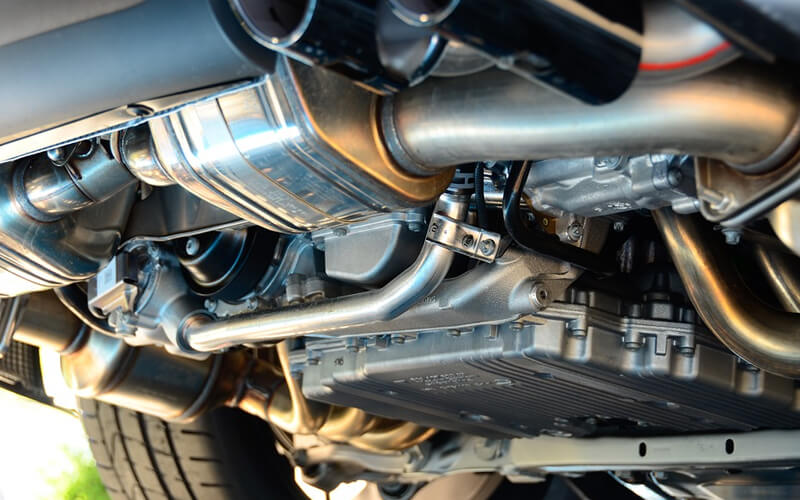 The exhaust system ensures a smooth emission of various gases from the vehicle to the environment. This outflow is necessary to maintain proper working of the engine and limit carbon residue left in the engine while burning the fuel. Ritz Garage provides the customers with a reliable exhaust repair Birmingham, Little Bromwich service.
What is exhaust repair?
Exhaust repair deals with fixing any leakages or holes in the catalytic converter, muffler, and exhaust pipe. All of these components are essential for maintaining a clean and regular emission out of the vehicle. Generally, exhaust repair begins with jacking up the vehicle to locate holes in the exhaust pipe. Once the holes are located, a steel wire brush or an abrasive is used to scrub the area and make it even. The defected area is then sealed with sealant tape or putty.
In case the exhaust still causes problems or creates disturbing noises, the catalytic converter or the muffler is replaced with a new one.
Benefits of Exhaust Repair
Improved safety
Repairing the exhaust system ensures a smooth outflow of hazardous gases from the car. if the exhaust is not repaired, these gases can enter the passenger cabin and adversely affect the health of the passengers.
Increased car life
Fixing any leakages within the exhaust system prevents the poisonous gases from affecting other components of the vehicle. Further, it enhances the overall life of the vehicle.
Increased car value
Exhaust repair accounts for better life of various components of the vehicle as well. As a consequence, the resale value of the car is drastically increased.
Environment-friendly: Exhaust repair experts ensure that the carbon emissions of the vehicle stay well under the harmless levels. Also, a proper exhaust is responsible for increased fuel economy and a pollution-free environment as well.
Consequences of not repairing Exhaust
Skipping an exhaust repair leads the car's engine to burn more fuel and increase the car's fuel consumption. Another disadvantage is that your car might even fail the MOT exam due to its harmful emissions. According to the data by the Driver and Vehicle Standards Agency, a poor exhaust accounts for 7 per cent of MOT failure in the UK. Moreover, driving with a broken exhaust also damages the car's engine that might lead to huge engine overhauling costs.
Symptoms of a damaged exhaust system
Strange noises from the engine
Reduced acceleration and performance
Raw and unusual smell from the engine's bay
Decreased fuel efficiency
Increased carbon emission from the tailpipe
Ritz Garage is a reliable choice to get top-notch exhaust repair service. Make sure to visit us as soon as you encounter the problems mentioned above. We are open from 09:00 am - 06:00 pm during weekdays, and 09:00 am - 04:00 pm on Saturdays. You can even book your exhaust service Birmingham online.
Area Covered : Stechford, yardley, Shirley, Erdington, sutton coldfield, sheldon, Solihull