Are you looking for Coolant Change for your vehicle?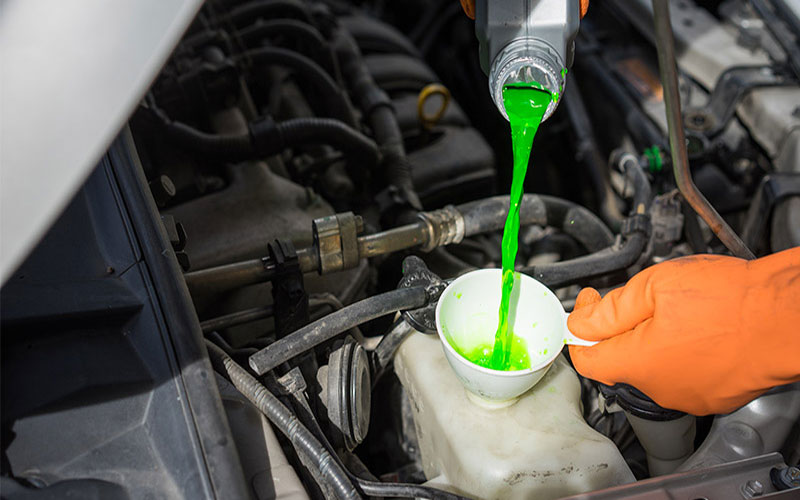 Coolant is a concentrated mixture that absorbs heat from the car's engine and dissipates it into the atmosphere through car's radiator. This prevents any heat build-up or engine breakdown issues. However, overtime, coolant gets corrupted with impurities and must be replaced for driving without much trouble. Ritz Garage provides excellent coolant change Birmingham service for better life and superb performance of an engine.
What is coolant change?
Coolant change or coolant flush refers to replacing the old engine coolant with a new one. The service begins with removing the car's radiator cap to flush out the old coolant. Once done, a fresh mixture of coolant and antifreeze liquid is filled into the radiator by following manufacturer guidelines. In some cases, the drain hose is removed to drain out the water and contaminated coolant from the engine.
It is recommended to get a coolant change Birmingham, Little Bromwich after every 5-10 years (based on manufacturer instructions).
Benefits of Coolant Change
Prevents rust build-up
A coolant flush also removes any contaminants or dirt, dust, and debris from the engine. This helps in preventing the rust and overheating of the vehicle as well.
Increased water pump life
Experts use specific engine coolant with certain additives that help to lubricate the water pump. This increases the pump's overall lifespan.
Reduced expenses
Coolant change service prevents any formation of acidic layer in the engine. This acidic layer can easily spread to other components and cause replacement expenses.
Improved engine life
Coolant prevents the engine from various negative effects of heat. Coolant further cools down the engine to avoid its complete breakdown.
Consequences of driving a car with old coolant
Old coolant cannot cool down a car's engine efficiently. This can result in a temperature increase of up to 200 degrees. Another disadvantage is a sudden blowout or vehicle breakdown that might occur. Moreover, contaminated or old coolant reduces the radiator's life as well. This might leave you with a non-functional vehicle. Other than this, cars with an old engine coolant have a lower resale value as compared to other vehicles due to engine and related components issues. 
Signs that indicate a coolant change is required
Grinding or knocking sounds from the radiator
Overheating of the vehicle and engine
Strange smells from the engine bay
Coolant leak underneath the vehicle
Signs of debris in the coolant
Visit Us
Customers looking to get a coolant change can visit Ritz Garage for assured services. We are open from Monday to Friday, between 09:00 am to 06:00 pm, and 09:00 am to 04:00 pm on Saturdays. Moreover, you can also book a coolant change Birmingham in advance.
Area Covered : Stechford, yardley, Shirley, Erdington, sutton coldfield, sheldon, Solihull