Are you looking for Puncture Repairs for your vehicle?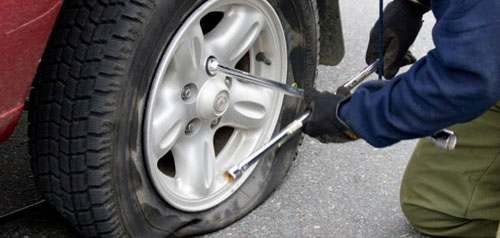 Punctured tyres are amongst the most common reasons for accidents in the UK. Getting stranded in the middle of nowhere or in traffic with a flat tyre can cause serious safety issues. Punctures are commonly caused due to slow leaks, defective valves, inaccurate air pressure, or something getting stuck in the tyre. A close inspection by our skilled technicians can locate the exact location of the puncture and repair it with extreme accuracy.
Repairing the tyre with utmost precision requires a reliable puncture-repair service like the one provided by us - Ritz Garage. Our top puncture repair Birmingham ensure that your tyres are safe and dependable to drive on. Our facility is well-known for providing prompt and hassle-free tyre puncture repair Birmingham at the best price. Moreover, Ritz Garage uses only the latest materials and technology to ensure 100 per cent accuracy.
In case a punctured or flat tyre is beyond repair, our technicians will not make any compromises but suggest a tyre replacement instead. We have different tyre types for many different vehicle models and budgets available.
Signs of a tyre puncture
If you notice any of the following symptoms, we recommend you to give us a call right away and let our experts take care of it:
If the car tyre suddenly starts deflating when your car is parked or stationary
If you feel excessive shaking and shuddering in wheels while driving
If you are unable to steer and brake your vehicle effectively
When your vehicle starts to go astray while driving
When you feel difficulty while making turns or cornering
Main reasons for tyre leaks
Often debris or sharp objects like a screw, a nail or a piece of glass can get stuck inside your tyre and cause it to lose air pressure.
All car tyres are prone to gradual damage and are worn out over time.
The malfunctioning valve stem of the tyre can also lead to tyre leaks.
Regularly driving over uneven terrain or bumpy roads at high speeds.
Blowout because of over-inflation
Common Puncture Repair Methods
There are mainly three types of puncture repairs-
Plugging: External repair of the tyre by using a string
Patch: Internal repair of tyres by using a repair patch
Plug and Patch: Repairing a tyre by using a combination of repair patch as well as plug method.
Non-repairable Punctures
Here at Ritz Garage, we value our client's safety and do not perform repairs on tyres that fall under the latest BS AU 159 standards. They include-
Tread Depth:

The tyre tread depth should not be less than 1.6mm

Excessive Damage:

If the cuts or splits on the rubber are too deep on the car tyre
If the punctured tyre has been previously fixed using a DIY kit
If there is significant visible sidewall damage
Please note: The repairs of Run-flat tyres are not considered to be safe.
Why choose Ritz Garage?
Ritz Garage is trusted by many vehicle owners in and around Birmingham. Puncture Repair Birmingham carried out at our facility can save you good money you would otherwise spend on a tyre replacement without compromising your safety.
You can finally put an end to your search for "Puncture Repair service near me" and contact our garage today instead. If you need any additional information about our services and products, please have a closer look at our website or chat with our skilled technicians who can help suggest the right solution for your vehicle.
Please feel free to call us on 0121 7840523.
The Ritz Garage team is ready to help!